Meet Alex Matosian, DDS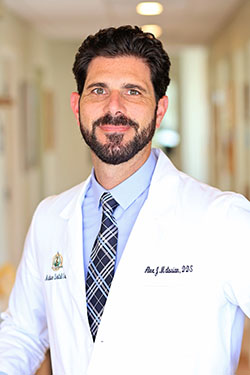 Dr. Alex Matosian completed his undergraduate studies at Point Loma Nazarene University, and graduated from the Loma Linda University School of Dentistry. Following his passion for problem solving and creativity, Dr. Matosian obtained specialty training in Prosthodontics and Implant Dentistry at the University of California San Francisco. Upon completion of his residency, Dr. Matosian returned to his native home of San Diego to practice with his father, and brother. Combining their skills, they enjoy a varied and exciting cosmetic and implant prosthodontic practice. Dr. Matosian has co-authored articles in the Journal of Prosthetic Dentistry on guided surgery and provisional techniques to transition patients through hard and soft tissue augmentation procedures. In his spare time Dr. Matosian enjoys riding bikes with his beautiful wife, playing baseball with his son and being entertained by his adorable baby daughter.
Awards:
Magna Cum Laude graduate, Loma Linda University School of Dentistry; Elected to OKU, Honorary Dental Society.
Associations:
American Dental Association; California Dental Association; San Diego County Dental Society; American College of Prosthodontists
Publications & Presentations:
Lecturer to Southern California Dental Study Groups; Member and Faculty of the Odontic Seminar; Co-Director, San Diego Odontic Seminar, an Implant, Restorative, and Prosthodontic Study Group.